06
Dec
NATIONAL UGLY CHRISTMAS SWEATER DAY(S)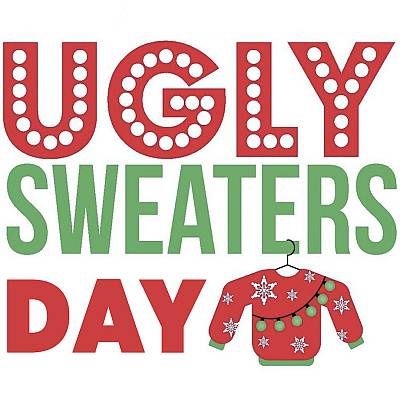 Christmas is coming !!! So before leaving your favorite school to unpack your gifts and enjoy family moments, why not taking up your teacher's challenge !
PARTICIPATE IN THE NATIONAL UGLY CHRISTMAS SWEATER DAY(S) ON THURDAYS DECEMBER 17TH AND FRIDAY DECEMBER 18TH
The Christmas Jumper Day in the UK is also celebrated in Canada and Australia so why not in Firminy :). The rules to follow are really simple:
1. Find the ugliest Christmas sweater: the uglier or funnier, the better !
2. Wear your sweater the entire day: don't cheat, you have to be comfortable and at ease with it !
3. Share the idea with your friends and enjoy ! Try to convince as many friends as possible to take up the challenge !
FIY (= for your information), many people organize events on that day to raise funds for charities, for example Save the Children. The ones who don't dress up have to donate more !
Everything you need to know about Ugly Christmas Sweater Day
Not only is wearing holiday sweaters a fun and festive activity, it can support a fantastic cause too. National Ugly Christmas Sweater Day (US) or Christmas Jumper Day (UK) falls on the third Friday
https://community.teespring.com/blog/sales-ugly-christmas-sweater-day-2017/